Seven of the University of London's major colleges have agreed to pay their low-wage staff the London Living Wage, fixed recently by the mayor, Boris Johnson, at £7.85.
The London Living Wage (LLW) is a London-weighted minimum wage which takes into account the higher costs of living in the capital. Since it began campaigning for the LLW in 2001, London Citizens has persuaded banks, hospitals, universities and shopping centres to pay it. Since 2004, the rate has been set by City Hall – currently £7.85 as opposed to the national minimum wage (NMW) of £5.80.
The LSE, the Institute of Education, Queen Mary College, SOAS, Birkbeck, the London School of Hygiene and Tropical Medicine, and Goldsmiths have all agreed to pay the LLW following campaigns by London Citizens. Awards were given to some of the colleges' senior representatives, among them the Director of the LSE, Professor Howard Davies, and the Senior Vice-Principal of Queen Mary, Professor Philip Ogden.
Professor Simon Gaskell, Principal of Queen Mary, says:
"Paying the living wage and bringing the cleaning service in-house has brought dividends to Queen Mary. The college is cleaner, staff feel rewarded and the wider community – both on and off campus – have fully backed the idea."
Professor Sir Andy Haines, Director, London School of Hygiene and Tropical Medicine says:
"The London School of Hygiene and Tropical Medicine has a strong commitment to addressing disadvantage and reducing inequities in health worldwide. Paying cleaning staff a living wage is consistent with that commitment and a recognition that as an institution we value their role in keeping our environment safe and pleasant for staff and students alike. They make an important contribution by enabling us to deliver our mission."
Professor Howard Davies, Director, London School of Economics and Political Sciences says:
"The LSE community is supportive of the living wage commitment, which we have now implemented successfully across the school."
Professor Paul Webley, Principal, School of Oriental and African Studies says:
"The School of Oriental and African Studies is above all else a community that celebrates diversity and is respectful and collegial. Paying the living wage for catering and cleaning staff is an important part of this as it ensures that lower paid workers have a better standard of living in one of Europe's most expensive cities, allowing them to care properly for their families."
Professor David Latchman, Master of Birkbeck, says:
"In March 2009, Birkbeck's Governors supported a move to pay the living wage to our contract cleaning and catering staff.  Governors responded positively to the views of the present college community – students, staff and Trade Unions – and acknowledged that this move was very much in keeping with the broader mission and ethos of the College.  Since then, we have worked closely with our contractors and Trade Unions to implement changes in pay and to commence constructive discussions on the broader living wage agenda. We are now in discussion with ULU itself about extending the living wage to the ULU-contracted staff who provide our student and staff bar services and look forward to a positive outcome as the next step in our living wage implementation."
Chris Pearson, Director of Human Resources, Goldsmiths College says:
"Goldsmiths College is delighted to be associated with the London Living Wage Campaign. We have already ensured that all our own staff at Goldsmiths are paid substantially above the Mayor's recently declared figure for the Living Wage. Contractors know that they too will be expected to pay the Living Wage as a minimum to their staff who work in Goldsmiths. If they don't already do so, they will have to as contracts come up for review or renewal shortly."
Professor Geoff Whitty, Director of the Institute of Education says:
"The Institute of Education values the contributions of all colleagues who help deliver a first rate student experience. Our externally contracted staff are part of our community and moving to paying the Living Wage is one way in which we can demonstrate our recognition of their contribution to the student experience here at the Institute of Education. In times of financial constraint, making such a commitment will require considerable innovation and flexibility. However, we are intent on working towards the Living Wage as both a reflection of our institutional values and as good business sense."
Nizam Uddin and Mazdak Alizadeh, President and Vice-President of the University of London Union (ULU), say:
"As University of London students, we're very proud of the Colleges who are paying the London Living Wage. We expect those not doing it to follow suit. The University of London was founded in 1836 by King's College London (KCL) and University College London (UCL) on the principles of fair access to education. The Living wage embodies this very principle by ensuring that no child is prevented from accessing Higher Education because of poverty."
London's mayor, Boris Johnson, today announced the new London Living Wage (LLW), adding 25p to the basic wage the capital's citizens need to live a human existence.
The LLW rate has been announced each year by London's mayor since London Citizens, who created the LLW in 2001, persuaded Ken Livingstone to create a Living Wage Unit at City Hall. The unit studies the cost of living and each summer announces the new level -- now set at £7.85, a rise of 3.3%.
The Unit now finds that someone paid less than about £6.80 an hour in the capital will be living in poverty, even after benefits and tax credits are taken into account.
According to the Guardian, "The rate has seen an overall increase of 17% since it was first introduced by Johnson's predecessor, Ken Livingstone, in 2005 at £6.70 per hour, following lobbying from the London Citizens charity."
Five new employers have said they are paying no one less than the LLW: Clifford Chance, Deloitte, Nomura, Prudential and Standard Chartered.
The mayor said: "The success of the London living wage depends on the extent of its acceptance by employers. There are huge benefits to employers and society of implementing the London living wage and today I urge all employers in the capital to follow the GLA's lead and pay a fairer wage."
London Citizens converted Boris Johnson to the idea of the living wage prior to the 2008 London Citizens Mayoral Assembly (watch his speech here). Commentators such as Dave Hill described it at the time as a "damascene conversion". Today Hill writes:
His public embrace of the LLW first occurred at a memorable "accountability assembly" held by London Citizens at Westminster's Methodist Hall during the 2008 election campaign. At the time I wondered if he was simply crumbling before the fervour of the crowd, but in office he's proved true to his commitment.
Boris told a London Citizens assembly at the Barbican last November that companies which paid the LLW are "supporting a measure that makes practical business sense: it not only heps to knit the loyalty of your staff and thereby to save on your employment costs, it is, of course, the compassionate thing to do."
Rev. Paul Regan, a London Citizens trustee, welcomed the mayor's announcement today.
"In these tough economic times, the living wage is even more important to keep hardworking Londoners out of poverty. The fact we have more and more companies becoming living wage employers goes to show that the living wage is becoming the real minimum for London's responsible businesses."
Two more London University institutions have agreed to pay the living wage to their cleaners and caterers as a result of London Citizens campaigns -- adding their names to a fast-growing list.
Goldsmith's College and the Institute of Education agreed last week to implement the Living Wage (currently £7.60 per hour) as soon as possible.
Other London universities who have signed up to the LLW as a result of London Citizens campaigns are: Queen Mary University, the School of Oriental and African Studies (SOAS), Birkbeck, the London School of Economics (LSE), and the London School of Hygiene and Tropical Medicine.
The living wage has been set since 2004 by the Greater London Authority's Living Wage Unit after London Citizens persuaded the then mayor, Ken Livingstone, to back the idea of a basic wage for London that reflects the real costs of the capital.
At a 25 May meeting, leaders from London Citizens met with Bryn Morris (Head of Administration) and Anthony Tyrrell (Head of Estates) of the Institute of Education to agree steps towards the implementation of the LLW. Praising London Citizens for their 'exemplary way of campaigning' , Bryn Morris said that the Institute of Education has a duty to address the link between poverty and academic attainment (as indicated, for instance, in a recent report by The Office for Fair Access).
More than 650,000 children in London  -- 41 per cent of the total -- live in poverty. The London Child Poverty Commission believes that one of the key means of reducing that number is for all London employers to pay the LLW.
Goldsmith's College also agreed to work with London Citizens to champion the Living Wage across the Higher Education sector. Chris Pearson, Director of Human Resources at Goldsmith's, said access to higher education was a right, and that poverty wages should  never be  allowed to prevent that access. Paying the Living Wage, he said, is a practical way to help those in most need.
Sebastien Chapleau, Living Wage organiser for Higher Education, said he was delighted to welcome Goldsmith's College and the Institute of Education to the list of LW employers. "Educational institutions need to lead by example, and this is what Goldsmith's and the IoE are doing.  We look forward to working with them to champion the LLW across the Higher Education sector."
Senior staff at both Goldsmith's College and the Institute of Education have been persuaded of the financial, as well as ethical benefits, of paying their low-paid staff the LLW. As argued by Professor Jane Wills in a case study, '[o]nce employers implement the Living Wage, they can secure improvements in productivity through enhanced worker-morale, reduced turnover and additional managerial innovation. This reduces the cost of implementation [...].'
Professor Wills believes the LLW is almost cost neutral.
Later this month, London Citizens and the University of London Union will launch a joint strategy aimed at persuading the remaining colleges and institutions in the University of London to pay their cleaning, catering, and security staff the LLW.
Part of that strategy will be issue statements from Living Wage champions such as the principals of Queen Mary University and SOAS, the Directors of the LSE and the London School of Hygiene and Tropical Medicine, the Master of Birkbeck, London Mayor Boris Johnson, and the Employee Relations Director of Barclays Bank.
For recent media coverage of the progress of the LLW campaign see:
BBC Online (23rd April)
London Student (27th April)
BBC Online (5th May)
East London Lines (26th May)
Photographs taken by Dan McCurry at the LSE event last week. See them here.
They include this one of living wage organiser Matthew Bolton.
Meanwhile, Ed Miliband on London Citizens in the Guardian here:
We need to inspire people with a sense of idealism about our party as well. That means a party that gives voice to members and that is a living social movement. That's why, learning from London Citizens, unions and others, I have launched a campaign for a living wage that I want party members and others to get involved in.
But a note of scepticism from Madeleine Bunting -- also in the Guardian -- here:
You can see them struggling to find a new language to replace the managerialism and technocratic competence that deadened the nation's soul. David Miliband made a pitch about the need for new moral norms in his attack on the banks, but what morality is he talking about and what place does it have in politics? Not clear. Meanwhile, his brother followed the now well-worn path to London Citizens' community organising, a model rooted in religious institutions, without any explanation of how it would work divorced from faith. Both sounded well intentioned, but also as if they were scrabbling desperately in an empty cupboard.

 
From Saturday's Guardian: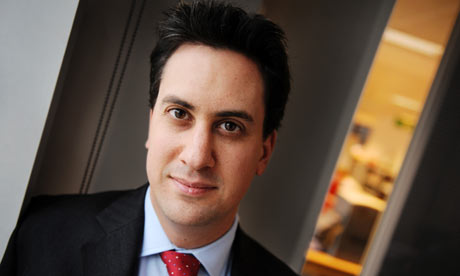 He wants the party to be "like London Citizens", the UK's largest community organising group, and will launch a campaign on Wednesday to get all constituency Labour parties to join its campaign for a "living wage" of £7.60 an hour, instead of the current £5.83 minimum wage. "We've got to show as a political party in parliament but also outside that we can achieve things."